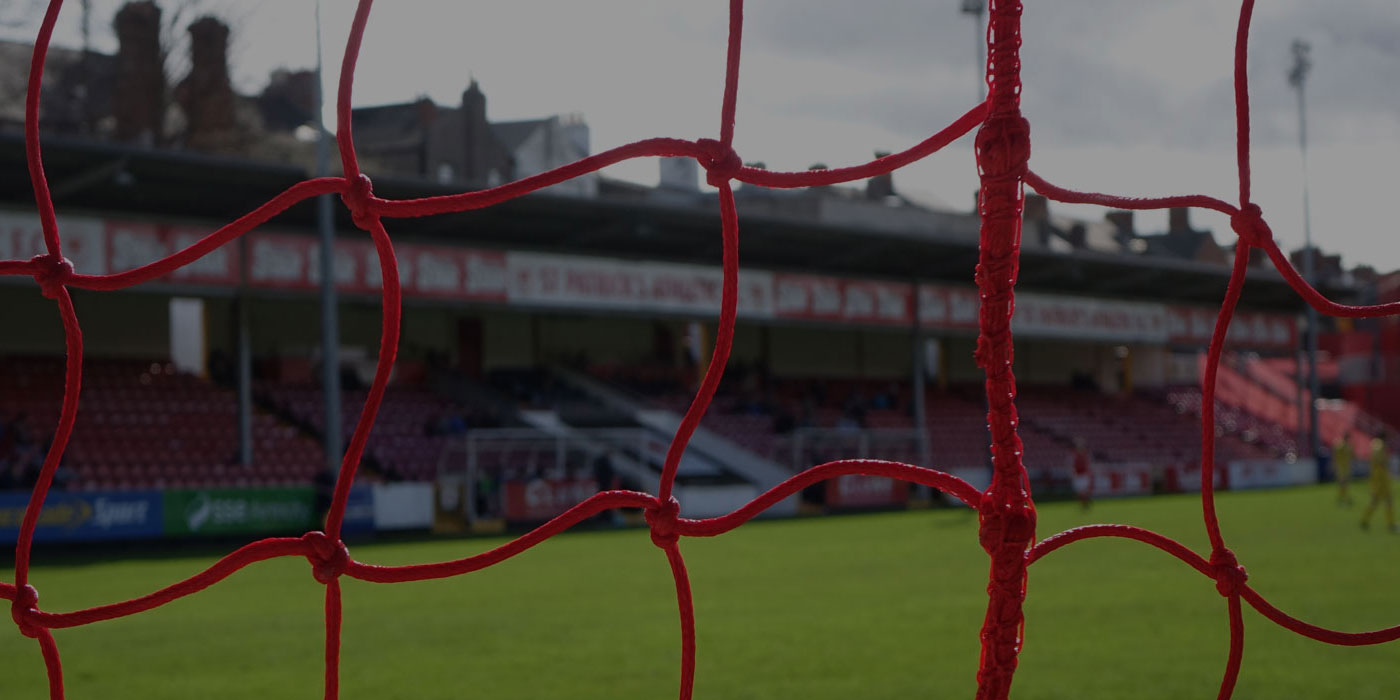 General

Tuesday April 7th, 2020 @ 18:58
Gerry McCord - An Appreciation
Gerry McCord's passing last week at the age of 86 brings to an end one of the last remaining links to the Pat's golden age of the 1950's.

From Ring Street in Inchicore, Gerry played underage football with Home Farm before being signed up by Pat's in 1952. He had been a keen fan of the Saints in the late 1940's when they dominated non-league football and he called the 1947-48 team, who won the treble of Leinster Senior Cup, FAI Intermediate Cup and Leinster Senior League, "the best Pat's ever."

Gerry played for the Saints from 1952-57, when the team were regarded as the best in Ireland. Records are somewhat unclear but he scored between 6 and 8 goals for the Saints, including one in the Leinster Senior Cup Final, and was highly regarded in several match reports. A September 1956 match report notes him as "the pick" of a Pat's team who beat Limerick.

However, for much of this time he was understudy to Shay Gibbons, the highest scoring player in Pat's history to this day, so first team opportunities were limited for Gerry - particularly given that these were the days before substitutes.

Much of his time at Pat's was spent in the successful B team which won several honours including the Leinster Senior League and the Metropolitan Cup. In one of his final games at the club, Gerry scored both goals and "brilliantly led" Pat's to a 2-0 Metropolitan Cup final success over Ormeau.

Gerry signed for Transport around 1958 but a bad knee injury ended his career after just three games. He continued to help out at St Pat's by working on ground improvements at Richmond Park and by driving players to matches outside Dublin.

He was heavily involved with the St Joseph's Boys Club in Inchicore and the parish community in Greenhills, where he spent most of his later life.
Some years ago, Gerry wrote a beautiful piece about his love for Pat's, which we reproduce in full below.

Ar dheis Dé go raibh a anam.

Dermot Looney
www.twitter.com/HistoryStPats

"My Pats"
Recently, I listened to a classical piece of music called "The Moldau" from Ma Vlast which the composer Bedrich Smetana likened to the River Moldau's course, from its rising in the mountains, its journey through the countryside and town, to its ultimate destination, the sea.
I thought, that reminds me of my little river that runs through Inchicore - the difference being the big Moldau has a pleasant trip sightseeing like a Lord whereas my little river is akin to an honest journeyman working his way from place to place.
That, readers, is my introduction to my river, the Camac, and for me three things are synonymous - the Camac, St Patrick's Athletic and Inchicore. All three have played and continue to play a very significant part in my life - they cannot be separated.
On our way home from school we had great adventures in the grounds of Brassington's Sawmills which the river's waters supplied to cool the motors and saws. We used the hugh banks of sawdust, jumping and rolling. The high walls were a great source for bird nesting in springtime.
During World War II, at around 10-12 years of age, we are allowed to go to Richer to watch Pat's play in the Leinster Senior League. We knew most of the players and the committee. 90% were neighbours or lived in the general locality.
We never paid in. We would climb into Cassell's Field at the Inchicore End, squeeze in under the corrugated tin fence, or chance climbing around the fence at the river. If you were lucky, you only got wet feet!
As I write this piece I am looking at an old newspaper photograph of the St Patrick's Ath team and committee 1947-48 (no managers in those days). They won the LFA Cup, the Leinster Senior League and the FAI Intermediate Cup - a clean sweep. For me, the best ever St Pat's.
The committee had to push for promotion to the League of Ireland. They did, and almost 60 years after weren't they right? In 1951-52 Pat's were promoted and won the League.
That year I was playing minor for Home Farm. Playing against Bulfin Utd (Pat's nursery) in the quarter final of the FAI Minor Cup in Whitehall, and the Pat's committee were in attendance. Luck was on my side as I was playing on the right wing with Amby Fogarty inside.
He was injured and as there were no subs then, I had the whole right side to cover. How lucky can one get?
That Sunday night a few of the Committee (who grew up with my mother) called to our house in Ring Street and asked my mother to ask me to sign. I did.
In 1952-53 Pat's entered a team in the AUL U-21. With Bulfin Utd's U14-U18, their own U21 and a Leinster Senior League team, Pat's were probably the strongest club in the country.
I came to Pat's as a winger but I was changed to centre forward. For those who remember, Shay Gibbons (ar dhesi Dé go raibh a anam dílis) was the centre forward, just coming into his own. Needless to say my first team appearances were few and far between. But I was playing for Pat's in Richer - joy of joys.
As the ground and facilities were deemed unsuitable for League of Ireland football, Pat's became the itinerant club, moving to Milltown, Chapelizod, Dalymount and Harold's Cross. In 1958 the committee decided to upgrade Richer. The pitch was first. Take sod and soil from top corner and add to the opposite corner, other end, Camac side.
Then the stand had to be erected. Concrete terraces with 2" planks nailed to the concrete as seating. Then the Inchicore End was terraced with planks. All done by Committee members and anyone they could talk into helping.
(Although I had been surplus to requirements and had signed for Transport. After three matches I injured my knee. I spent a lot of time in Richer wheeling a barrow to try and strengthen my knee - to no avail.)
I had to accept my footballing days were ended. I continued to help with the upgrading and driving one of the three cars to country matches, which I thoroughly enjoyed. Pat's of Inchicore were a League of Ireland club with their own ground, proud to be home at last.
Some years later, my first football mentor Tommy O'Leary asked me to return to my local boys club, St Joseph's, as a leader - an invitation I was happy to accept as the invitation to St Pat's was.
An opportunity to give back, not in a footballing way, but to help boys to grow and develop as responsible teenagers and citizens of Inchicore and Dublin.
Wherever I am, I am an Inchicorean first, a Dub second and an Irishman - and proud to be.
Buíochas libh go léir,
Gerry McCord